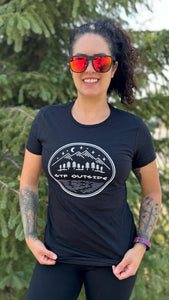 Live your best life outdoors with this GTF Outside Ladies Tee! Made from 100% ringspun cotton, this tee is semi-fitted for a flattering silhouette and narrow width. So don't waste any more time stuck inside—get outside and have some fun!
Product Specs (inches):
          Length     Chest
S           25            34
M          26            36
L           27            39
XL        27.75        41
2XL       28           46


Good quality. Fits a bit small.
Perfect Tee!
Love the t-shirt, soft and stretchy. I did order a size up though.